Snow Inc. has just completed d
Snow Inc. has just completed development of a new cell phone.The new product is expected to produce annual revenues of$1,400,000. Producing the cell phone requires an investment in newequipment, costing $1,500,000. The cell phone has a projected lifecycle of 5 years. After 5 years, the equipment can be sold for$180,000. Working capital is also expected to decrease by $200,000,which Snow will recover by the end of the new product's life cycle.Annual cash operating expenses are estimated at $820,000. Therequired rate of return is 8%. Required:
1. Prepare a schedule of the projected annual cash flows.
2. Calculate the NPV using only discount factors from thePresent Value of a Single Amount table shown in Present ValueTables.
3. Calculate the NPV using discount factors from both of thetables shown in Present Value Tables.
I really need help with the second question, please and thankyou!
Answer:
Requirement : Answer to second question i.e calculating NPVusing only discount factors from the Present Value of a SingleAmount table
Alternative 1 : Using PV factor upto 5 decimal places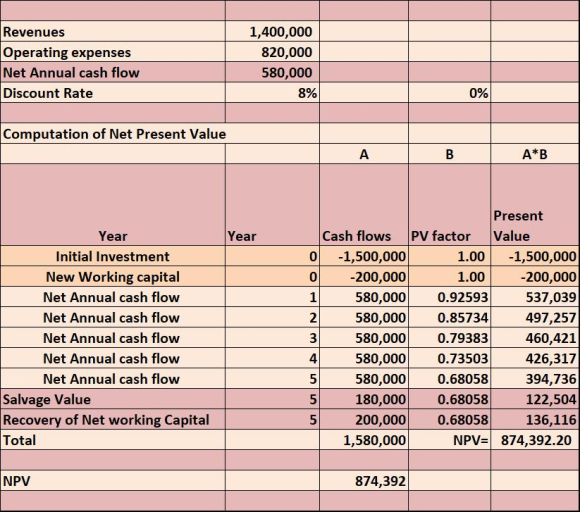 Alternative 1 : Using PV factor upto 3 decimal places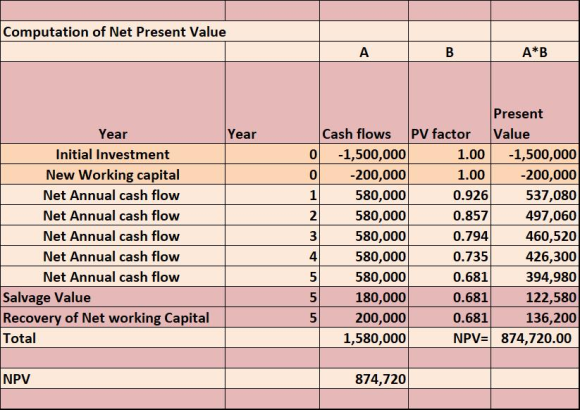 ---
"Our Prices Start at $11.99. As Our First Client, Use Coupon Code GET15 to claim 15% Discount This Month!!"